Teenagers
Pressured Life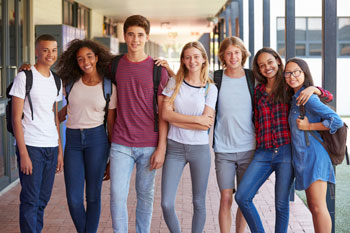 Teenagers are growing rapidly, which means that their spine and nervous systems is very susceptible to injury.
They also have to deal with more and more pressure in their lives:
heavy schoolbags
long periods on computers and mobile phones
high level sports
hormonal changes
greater levels of stress
Injury
The combination of rapid physical growth and high pressure living has the potential to significantly affect a teenagers health. It may cause spinal pain, sporting injuries, 'growing pains' or poor posture.
Problems in the teenage years may cause ongoing problems into adulthood. For this reason, we believe that correcting any problems in the early stages is important.
The first appointment
Like all our new patients, the first step with teenagers is to take a thorough history followed by a comprehensive examination. This gives us an objective picture of a teenager's health and will determine if Chiropractic care is suitable. X-rays will be then be ordered if necessary.
Chiropractic care
At Winthrop Chiropractic we look holistically at a teenager's life – to maximise improvements and reduce the risk of a relapse. The chiropractic care can include looking at posture, computer station set-up, stretching and home based exercise.
We tailor our care to suit the needs of teenagers.
To organise an complimentary spinal examination for your child, call the clinic on 9332 0122.